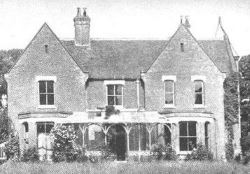 Location: Borley Rectory, Borley, near Sudbury, Essex, UK. Residence of Rev. Lionel Foyster (born 1878), his much younger wife Marianne (born 1899), and their adopted daughter Adelaide (born 1928).
Principal Investigators: (1) Harry Price (psychical researcher); (2) Eric Dingwall, Kathleen M. Goldney, and Trevor H. Hall (Society for Psychical Research).
Phenomena: Footsteps. Ringing of bells. Voices. Breaking windows. Writing on walls and paper. Throwing of stones, books, bottles and bricks (generally at Marianne, and sometimes causing injury). The appearance, disappearance and displacement of objects. Overturning of furniture. Apparitions. Odours. Booby-traps. Temperature changes. Outbreaks of fire. The locking and unlocking of doors.
Poltergeist Agent: Marianne Foyster (age 31-39).
Trigger: The Foysters moved into the Rectory in October 1930. The phenomena started soon after.
Comments: Borley Rectory was built in 1862 on the site of an earlier rectory that had burned down in 1841. Borley Rectory had a reputation for being haunted long before the Foysters moved in. The Foysters left Borley Rectory in 1935, due to Lionel's ill-health, and the phenomena then subsided. Marianne later confessed that, while at the Rectory, she was carrying on a sexual affair with the Foysters' lodger Francois d'Arles (real name Frank Pearless) whose young son was a playmate for Adelaide. It has also been suggested that Lionel Foyster may have condoned the affair. During his investigations at Borley, psychical researcher Harry Price concluded, and told Lionel, that Marianne was responsible for faking many of the phenomena, although Price continued to maintain that the Rectory was haunted. After the Foysters moved out of Borley Rectory, Price leased the property in order to continue his investigation of 'The Most Haunted House in England'. A later reassessment of Harry Price's investigations at Borley, carried out by members of Society for Psychical Research, concluded that many of the occurrences were faked by Marianne, or could be explained by natural causes. They also suggested that Price himself may have faked certain phenomena at the Rectory. In 1939, Borley Rectory was severely damaged by fire and was finally demolished in 1944. Several years later, Marianne confessed to having faked some of the events at Borley.
Credibility: ★☆☆☆☆ Paranormal activity is conceivable but unlikely.
Further Reading:
Dingwall, E.J., Goldney, K.M., & Hall, T.H. (1956). The Haunting of Borley Rectory. London: Duckworth.
Price, H. (1946). The End of Borley Rectory. London: G. G. Harrap & Co.