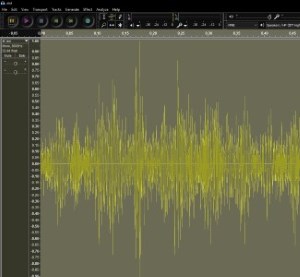 After a number of experiments using microphones and radio hiss, none of which was particularly successful, I decided to try electronically generated white noise. This has the advantage of ruling out the possibility that a microphone may pick up a distant voice, or that stray radio signals may intrude into the between-station hiss (critics have suggested both possibilities). Rather to my surprise, I obtained immediate results. Both the above samples were taken from a one-minute recording. In addition, throughout this minute of recording, there were sounds that resembled background chatter, although most of this was unintelligible. Furthermore, the procedure does seem to be replicable. So that you can try out the method for yourself, here are the technical details of the procedure that I followed.
Using a digital audio editor (Audacity), I generated 60 secs of white noise (sample rate 44100 Hz, mono, 32-bit float). This produced very faint suggestions of a voice, but too indistinct to make out any words.
I then decided to transform the recording using the editor's noise reduction facility (I found that minimum noise reduction was best). After this, I performed frequency filters for the range of voice frequencies (a High Pass Filter at 300 Hz, and a Low Pass Filter at 3000 Hz). Finally, I performed a Bass Boost at 1500 Hz to amplify the mid-range voice frequencies. As mentioned above, this produces an audio stream that has indications of background "chatter". In several places, there were snippets that suggested specific words or phrases.
To reduce file size before uploading these snippets, the sample rate was converted from 44100 to 8000 and files were saved in Windows PCM 16-bit format (wav). This conversion has led to a small decrease in sound quality, but the voices are still easily recognisable.
Audacity, the sound editor I used, is an excellent FREE open source cross-platform program. You should note, however, that the white noise generator in this software always produces identical data. This means that you can generate the actual audio stream that I used to produce the two voice snippets above ("Programming" is at about 5.4 sec and "You want the dollars" at about 58 sec. To produce a different stream, generate a longer period of white noise and then select a different segment.
If you want to experiment with EVP, the software can also be used to import your own recordings (e.g., using the recording methods mentioned at the start of this article). You can then try out various transform effects, (e.g., ampification, frequency filters and boosts, noise reduction.
For those who wish to experiment to true random white noise, an excellent free generator (based on atmospheric noise) is provided by random.org. The white noise can be downloaded to a file which can then be imported into an audio editor.