Physical and Mental Mediumship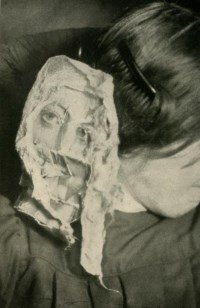 Mediumistic phenomena can be conveniently divided into physical and mental categories.
Physical phenomena are those that affect objects or material processes that can potentially be recorded using physical equipment. They include raps, noises, and other sounds, 'direct voice' (discarnate speech), mysterious lights and other visual effects, smells, touches, sudden breezes or temperature changes, spirit writing, ectoplasmic materializations, apports and deports (object appearances or disappearances), teleportation, object deformations, and levitations of objects or persons.
While physical phenomena sometimes involve the communication of specific information (e.g., using coded raps, direct voice, spirit writing, or apports of personal significance), there often seems little purpose to these phenomena beyond proving the spirit's presence. Typically, physical mediums (those specializing in physical phenomena) hold their séances in total or near darkness – a cause of much scepticism among the scientific community.
Mental phenomena involve the communication of information in ways that do not violate physical laws. They include clairvoyance, clairaudience and clairsentience ('seeing', 'hearing' and 'sensing' spirits), Ouija Boards, automatic writing, psychometry (object readings) and 'indirect voice' (speech that uses the medium's vocal apparatus). Usually mental mediums hold their séances in normal light.
In the early days of Spiritualism, physical phenomena predominated. Today, physical mediumship is rare, with most mediums specializing in mental communication. The decline in physical mediumship is at least partly explained by the exposure of many physical mediums as frauds, as well as the development of better ways for detecting fraudulent activity (e.g., infrared cameras in the dark).
Trance and Non-trance Mediumship
Physical and mental mediumship are related to another important distinction – between trance and non-trance mediumship.
A trance medium is one whose séances are conducted when he or she is in an altered state of consciousness. The trance state can vary in strength or depth. Some mediums experience a very light trance, akin to a sense of feeling 'overshadowed' by a spirit presence, in which they retain their normal awareness and faculties. At the other extreme, deep trance can involve loss of consciousness, insensitivity to pain, and fundamental changes in personality, speech and behavior that are reminiscent of states of possession.
While mental mediumship is commonly associated with light trance or overshadowing, physical mediumship, especially in its more dramatic forms (such as ectoplasmic manifestations), generally occurs when the medium is in deep trance. With deep trance, precautions are often needed to ensure that the medium enters and exits the trance state safely and comes to no harm during the séance.
In non-trance mediumship (sometimes called 'clairvoyant mediumship'), the medium is fully awake and behaves and talks normally. Messages are simply relayed to sitters as if the medium was in contact with the 'spirits' using a psychic telephone or video link. Clairvoyant mediumship is almost always of the mental type, although physical phenomena can occasionally be reported.