Polarities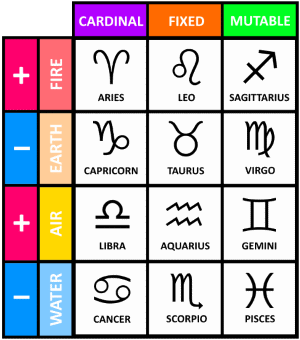 In traditional astrology, each zodiac sign is considered either positive or negative, depending on whether its influence is largely active or passive (yang or yin). Polarity alternates through the 12 signs, beginning with Aries (positive) and ending with Pisces (negative).
Positive Signs (Active, Yang, Light) - Aries, Gemini, Leo, Libra, Sagittarius, Aquarius

Negative Signs (Passive, Yin, Dark) - Taurus, Cancer, Virgo, Scorpio, Capricorn, Pisces
Elements
Each zodiac sign is also associated with one of the classical four elements (Fire, Earth, Air and Water). Again, these cycle through the zodiac, beginning with Aries (Fire) and ending with Pisces (Water).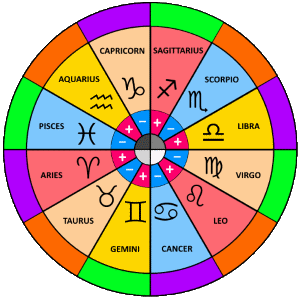 Fire Signs (Energy) - Aries, Leo, Sagittarius

Earth Signs (Body) - Taurus, Virgo, Capricorn

Air Signs (Intellect) - Gemini, Libra, Aquarius

Water Signs (Emotions) - Cancer, Scorpio, Pisces
Because each element comprises three signs, the element groupings are known in astrology as the Triplicities.
Fire is traditionally considered to be opposed to Water (e.g., water puts out fire). Similarly, Earth and Air are opposites (e.g., body vs mind).
Qualities
Another traditional cyclical grouping of zodiac signs is based on how each contributes to the seasonal, developmental, or gestatory process. Three 'qualities' (or modalities) are traditionally recognised - Cardinal, Fixed, and Mutable. Cardinal signs are the creative initiators. Fixed signs provide a stable environment and foster maturation. Mutable signs shake things up and allow transformation to occur.
Cardinal Signs (Beginning, Impulse, Inception) - Aries, Cancer, Libra, Capricorn

Fixed Signs (Middle, Continuation, Stability ) - Taurus, Leo, Scorpio, Aquarius

Mutable Signs (End, Change, Movement) - Gemini, Virgo, Sagittarius, Pisces
Because each quality comprises four signs, these groupings are known in astrology as the Quadruplicities. Relationships between the three qualities are complex, and astrologers can have different opinions about which qualities are compatible.