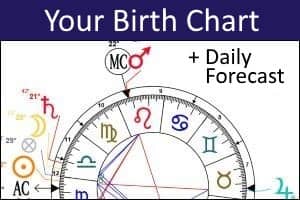 This free astrological program will instantly calculate, display and interpret the birth chart (natal horoscope) for any person born after 1920. You can also compute charts for significant events such as weddings, meetings, product launches, or travel.
You will need to know the date and place and, for maximum accuracy, the exact local (clock) time. If you do not know the birth or event time, then select Noon.
The program will automatically correct for daylight saving time if this is needed for your date and location. You do not need to make this correction yourself.
Simply enter your details, then click OK.
You do not need to give your real names, and can use initials or an alias if you prefer.
Your Birth Chart will be shown instantly, together with interpretation of the various astrological elements.
You can also use this program to get a personalized daily horoscope which gives both positive and negative factors affecting you today.