Arthur Wright (1865-1926)
Arthur Wright was an electrician working on a local estate. In 1917, he bought a quarter-plate 'Midg' camera, photographic plates, and set up his own dark room in the cellar. In the summer of 1917, he showed Elsie how to use the camera and he developed the first two photographs when the girls brought the camera back from their excursions to the beck. Arthur is reported to have been very surprised by the images, which he did could not explain, and suspected they had been faked.
Polly Wright [née Curtis] (1875-1955)
Arthur's wife, Polly is reported to have previously read Theosophical literature and to have gained spiritual benefit from this. While Arthur did not take the photographs seriously, Polly was more interested in them and she attended a Theosophical Society talk in nearby Bradford about fairies where she showed the photographs to the speaker. As a result, the photos later came to the attention of leading theosophist, Edward Gardner.
Elsie Wright (1901-1988)


Elsie was the only daughter of Arthur and Polly. She was sixteen in the summer of 1917 when the first two fairy photographs were taken. She had first seen fairies in the glen in 1915, and had often mentioned this to her parents. Elsie was said to have been a 'dreamy' and imaginative girl whose health was not robust. She had artistic talent and had taken up water-color drawing. She had also worked for a few months for a photographer. In 1925, she moved to the USA and the following year married scotsman Francis Hill (1895-1980). The couple had one son. Later they moved to India before returning to England in 1949.
Frances Griffiths (1908-1986)
In 1917, nine-year old Frances Mary Griffiths and her mother Annie were recently arrived from South Africa and lodging with Arthur, Polly, and Elsie Wright at their house in Cottingley. World War I was at a critical phase and Frances' father, Arthur Griffiths, was in France serving in the Royal Artillery. Annie was Polly's sister, and Frances and Elsie were first cousins. Frances was seven years younger than Elsie and seems to have played along with her older cousin's talk of fairies. However, Frances maintained until her death that she had seen fairies at Cottingley, and that the final photograph (E) was genuine. Frances married Cecil Wilfred Way in 1928. They lived overseas for several years before returning to England. The couple had two children.
Edward Gardner (1869-1969)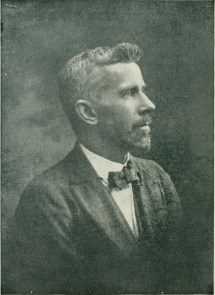 Edward Lewis Gardner was a prominent Theosophist and lecturer on esoteric topics.
He first heard about the fairy photographs (Photos A and B) in early 1920 and was sent prints and, later, the two original plates. He immediately had the negatives examined by a photographic expert (Harold Snelling) who concluded they were genuine single exposures.
In May 1920, he showed slides of the images at a lecture he gave in London. He was subsequently contacted by and met with Arthur Conan Doyle who encouraged Gardner to investigate the matter without delay.
Gardner visited Cottingley in July, was shown the locations in which the photographs were taken, and interviewed Elsie and her parents. Frances had, by then, moved to Scarborough, but was due back in a few weeks time. Gardner left the 'Cameo' camera and plates, which he had brought with him, asking that the girls take more photographs of the fairies when they had the opportunity.
In September, Elsie sent him the three later photographic plates (Photos C, D, and E). Gardner had these examined by experts and was again satisfied they were genuine. Later that month, Gardner made a second visit to Cottingley, taking photographs of the locations and talking again with Elsie and her parents.
Gardner and Conan Doyle planned a third series of photographs for August the following year (1921) when Frances was due to visit for a fortnight. For this, both a stereoscopic camera and cine camera were made available to the girls. Unfortunately it rained throughout the fortnight of Frances' visit and photographing was not possible. It is also reported that the girls were much changed, having become tired of the fairies.
In 1945, Gardner's book about the Cottingley Fairies was published. In this, he continued to maintain that the photographs were genuine.
Harold Snelling
Harold Snelling of Harrow was one of the photographic experts that Edward Gardner first contacted for an opinion on the photographs. Snelling had, according to Gardner, thirty years practical photographic experience. While some of the experts consulted were sceptical, Snelling's opinion was that there was no evidence of fakery and he was happy to endorse them. After examining the first two negatives, he reported that they:
'are entirely genuine, unfaked photographs of single exposure, open-air work, show movement in the fairy figures, and there is no trace whatever of studio work involving card or paper models, dark backgrounds, painted figures, etc. In my opinion, they are both straight, untouched pictures.'
At Gardner's request, Snelling made prints from the two negatives and, from these, made and 'intensified' (i.e., retouched) new negatives, from which better prints and lantern slides could be made.
When the second series of three photographs was taken, Gardner immediately showed them to Snelling, who again reported that the photographs were genuine. The final image in particular, Snelling said, could not have been faked (Photo E).
From Gardner's account it appears that Snelling's help was again sought to enhance the negatives from this second series.
Geoffrey Hodson (1886-1983)
On Edward Gardner's third and final visit to Cottingley in August 1921, he brought the clairvoyant Geoffrey Hodson (called 'Mr Sergeant' in The Coming of the Fairies).
Hodson had been a British Army Officer during WWI and was a leading figure in the Theosophical Society. He went on to write a number of works on esoteric and theosophical topics.
Hodson spent a week in August 1921 accompanying Elsie and Frances in the glen. He wrote extensive notes on his experiences, claiming that both he and the girls regularly observed gnomes, fairies, elves, nymphs, and goblins. Conan Doyle included Hodson's reports as a chapter in The Coming of the Fairies.
Arthur Conan Doyle (1859-1930)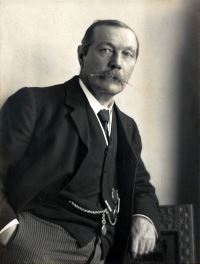 Famed creator of Sherlock Holmes, Arthur Conan Doyle had long been fascinated by mysticism, psychic phenomena, Spiritualism, and the paranormal.
In 1920, Doyle was commissioned by The Strand Magazine to write an article about fairies for the Christmas issue. He could hardly believe his luck when, that summer, he heard about the Cottingley Fairy photographs and met with Edward Gardner.
Doyle wrote to Elsie and Arthur Wright requesting permission to use the photographs in his article and offering a fee of £5. He also encouraged Edward Gardner to visit Cottingley to investigate the case. Doyle did not visit Cottingley himself because he was in the throes of arranging a lecture tour of Australia.
Doyle's first article on the fairies duly appeared in December 1920, and contained the first two photographs, taken in 1917. The issue sold out almost immediately. He followed up in 1921 with a second article for The Strand, which included the three later photographs.
Doyle quickly adapted these articles into a book The Coming of the Fairies (1922). Although it sold well, publication of this book seriously damaged Conan Doyle's reputation. Yet, despite embarrassment, scepticism and objections from many quarters, Arthur Conan Doyle continued to believe that the Cottingley Fairy photographs were genuine.
Read "The Coming of the Fairies"