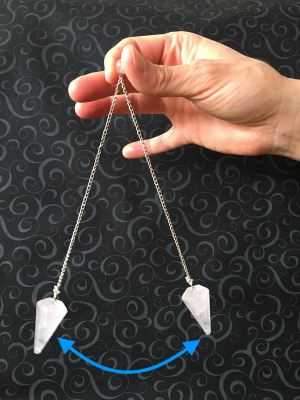 Hold the pendulum as described above. Now simply TELL the pendulum to move back and forth..
Do NOT try to make it swing by moving your hand - keep your hand still while staying relaxed.
You will find that the pendulum starts to move as directed, slightly at first and then with increasing amplitude (keep up the mental intention).
Now tell the pendulum to stop. The swing will quickly reduce until the pendulum stops moving.
Try telling the pendulum to move in different ways - e.g., left to right, diagonally, clockwise, anticlockwise. In each case the pendulum will move in the intended direction.
Practice these tests until you have developed a good sense of the ways in which the pendulum moves and the effects of your mental intentions on the movements.