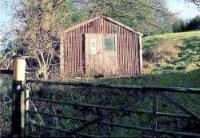 Location: Treuddyn, near Mold, Flintshire, North Wales. Home of David Gower (science teacher, born 1947), his wife Rose-Mary (born 1950), and their adopted son John-Paul (born 1985) who has Down Syndrome. The Gowers also have four other adult children (another adopted son, and three daughters) who no longer lived at home.
Principal Investigator: Michael Daniels (parapsychologist)
Phenomena: Large numbers of stains and carvings of images and Welsh words, generally of a religious nature, inside and outside the house. Intrusions of Welsh religious words in emails, computer files and printed documents. Noises. Strange smells. Temperature fluctuations. Pools of water. Electrical disturbances. Object displacements, disappearances and reappearances. Apparitions of the Virgin Mary and of a monk. Photographic anomalies. Scratching of skin. No throwing of objects was reported.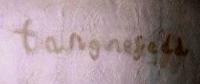 Poltergeist Agent: Unclear. Possibly Rose-Mary Gower, or John-Paul Gower (age 12-17).
Trigger: In February 1997 the family moved into the property from their previous home, which was in an adjacent bungalow. Possibly also the leaving home of the Gowers' other children (the latest occurring in 1997).


Comments: Apparently paranormal events began in late February 1997, when an Irish couple (who have not been identified) claimed to have experienced healing after seeing an apparition of 'Our Lady' in a field next to the Gowers' home [letter sent to local newspaper]. Some days later, Rose-Mary reports seeing a white figure alongside one of her daughters at the top of the field. Also around this time, Rose-Mary took a series of photographs of their new property. One of these photographs appeared to show the image of a large face in the far window of the barn. In June 1997, this photograph was published in the Wales on Sunday newspaper, under the headline "Is this the face of Jesus' mother?". An article in the News of the World followed a week later. As a result of this publicity, the Gowers' field began to attract visitors laying flowers and praying at the site. On 31 January 1998, John-Paul saw a 'Blue Lady' by the barn door. Within a few days, Rose-Mary found a discolored stone that resembled Mother Theresa of Calcutta. Rose-Mary says that John-Paul immediately recognised this as the Blue Lady he had seen. In October 1998, the Gowers' youngest daughter, who was staying at the house, awoke to see the figure of a young monk at the bottom of her bed. A few days later, Rose-Mary saw the hooded head of what appeared to be a monk walking behind a hedge outside the kitchen window. In October or November 1998 the phenomena moved indoors when the dark stain of a cross was discovered on the lounge fireplace. In January 1999, following a trip away from home, the Gowers returned to find the Welsh word 'tangnefedd' (meaning 'peace') as a large brown stain on the wall next to the fireplace. The Gowers are not Welsh speaking and were initially perplexed by this word. Since that event, large numbers of stains (and, later, carvings) began appearing in the lounge and elsewhere, both in and outside the house. Almost exclusively these have been of Welsh religious words, crosses, and stylized outlines that appear to represent the hooded figure of a monk. The phenomena were not experienced as threatening and the family considered them interesting, even amusing. They decided to attribute the manifestations to the presence of a ghostly monk whom they nicknamed 'Brother Doli' (or Adolphus). The stains and carvings generally remain, allowing them to be viewed and photographed by visitors to the house. Other examinable items include emails, documents, and several photographs (taken by Rose-Mary) that possibly show anomalous images. Having been initially contacted by David Gower, parapsychologist Michael Daniels visited the property on 14 occasions in 2000 and 2001, creating an inventory and photographic record of the stains and carvings, and installing time-lapse video surveillance of one of the walls. Daniels did not personally witness any anomalous activity at the house, and on the one occasion when a carving appeared overnight on the surveilled wall, the video recording had failed. This, and other suspicious features in the evidence, led Daniels to conclude that an elaborate hoax could not be ruled out, although some aspects of the case remained ambiguous and perplexing. He suggests that this could be a 'mixed' case in which a basic core of genuinely paranormal phenomena (e.g., apparitions) has been deceptively elaborated upon by one or more members of the family, most likely by Rose-Mary. After the publication of Daniels' investigation in 2002, stains and carvings continued to appear at the house for several years. Rose-Mary has reported that all phenomena 'stopped abruptly' in January 2008 for no known reason [Internet forum postings, April 2014].
"A Case Study in Wales" (Brother Doli Case)
From the TV documentary "The Paranormal Uncovered" (The Edge, Series 1, 2002)
If your browser does not start the video at the correct place, skip to 3:35
Credibility: ★☆☆☆☆ Paranormal activity is conceivable but unlikely.
Further Reading:
Daniels, M. (2002). The "Brother Doli" case: Investigation of apparent poltergeist-type manifestations in North Wales. Journal of the Society for Psychical Research, 66.4, No. 869, 193-221. (Reprinted in R. Wiseman & C. Watt (eds.) (2005). Parapsychology (The International Library of Psychology). Farnham, Surrey: Ashgate Publishing.)
Gower, R-M. & Gower, D. (2002). The 'Brother Doli Case: Family Perspectives. Journal of the Society for Psychical Research, 66.4, No. 869, 222--224.
Ruffles, T. (2015). The 'Brother Doli' Poltergeist Case.