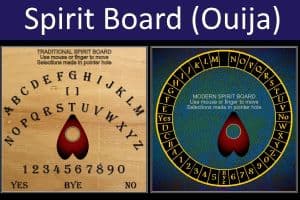 Caution and Disclaimer
The Spirit Board Game provided on our site is a computerised simulation of the classic Spirit Board 'Talking Board', or 'Ouija'), believed by some to enable communication with "spirits" and, by others, with the unconscious minds of the users.
For more information, see History of the Spirit Board (Ouija).
This version is a GAME that is intended for entertainment purposes only.
However, because some people might be upset or unduly influenced by the 'messages' apparently received, this Spirit Board Game is NOT recommended for children, for those with religious objections, or for those who may be psychologically vulnerable.
By using Spirit Board Game you agree to accept any and all risks and liabilities that may result from this use.