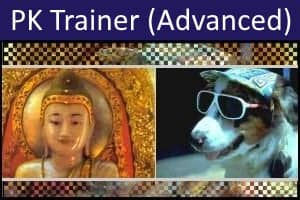 Psychokinesis (PK)
Psychokinesis (PK) is the ability to influence an object or physical process using the power of the mind. Parapsychologists have devised several ingenious methods of testing PK, many of which (as here) examine whether people can influence 'random' events.
Advanced PK Trainer
Please note that Advanced PK Trainer requires browser support for HTML5. It is also graphics intensive. If the Trainer doesn't work in your browser, or if your device struggles, you should try our Basic PK Trainer
You have to use your psychokinetic (PK) powers to cause a target photograph to appear instead of an alternative photograph.
First choose one of the photos as the target to be created. Then choose the alternative photo that you wish to avoid.
You can also choose different difficulty levels by selecting the pixel size for the mixed up images.
We suggest that you start by practising with the 10px setting. You will also find it easier if you choose two images that are visually distinct (in terms of subject matter and color scheme).
When you confirm your selections, the two photos will be mixed up, half and half.
Click the Start button and the computer will start jumbling up the photos randomly.
This jumbling will continue until one of the images is complete. This will generally take anything from a few seconds to about a minute. You will find that the images take longer to form when using the smaller pixel sizes.
While the jumbling is going on, you should focus on trying to make your chosen photograph appear by visualizing it in the central panel.
You may repeat the task as often as you wish. With practice, you may learn how to enhance your PK powers.