Free Instant Astrological Birth Chart
---
Full instant natal chart and interpretation
100% Free No sign-ups!
Interpretations rated as accurate by 85% of our users
---
How to Cast your Chart
Enter your date of birth, birth time, and birth place, then click Next


Select the correct or nearest city of birth from the dropdown list, then click Next
Your Astrological Birth Chart will be shown instantly
When the chart is displayed, CLICK on the symbols and house numbers for interpretations. Click 'Reduce' between interpretations
Important Note for IOS users
(iPhone, iPad etc)
You must change the Safari Block Cookies Setting to "Always Allow"
(Settings - Safari - Privacy & Security - Block Cookies - Always Allow)
How to Interpret your Chart
Your birth chart will give a detailed interpretation of your temperament and character, based on the astrological positions (including symbolic degrees) of the planets, Ascendant (AC), Midheaven (MC), North and South Nodes, Part of Fortune and asteroids. Major and minor aspects are also calculated.
To access the interpretations, CLICK on the astrological CHART SYMBOLS and HOUSE NUMBERS. Click Reduce between interpretations.
Key to Astrological Symbols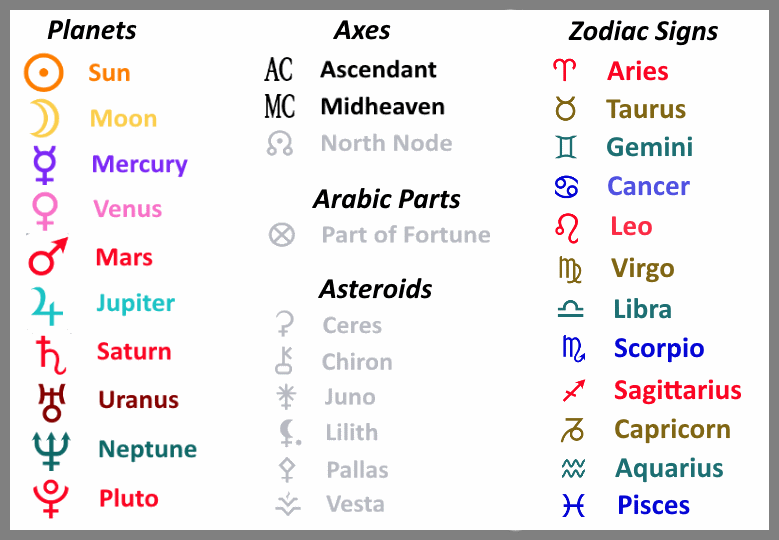 More Uses
You can also use this App to cast and interpret the horoscope chart for other significant moments (e.g., weddings, meetings, travel, business launches, sporting, political, or historical events)